Sign up to receive emails on new product arrivals, special offers, exclusive events, trainings and seminars
Advance Technical Spare Parts Co. LLC
The company was formed a century ago when the founders DK Karani and Brothers commenced business in pearls in Bahrain. Half a century later, the company diversified into electrical parts business and soon expanded to cover refrigeration and air conditioning field. Company enjoyed a strong reputation for quality products and efficient service in Bahrain and created a sound base.


With a vision of expanding in other countries, company started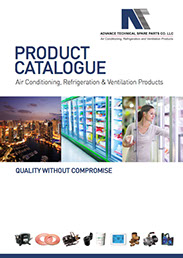 operations in Dubai in December 1990 with the name Advance Technical Parts Co, L.L.C. Company grew steadily and in 1993 Abu Dhabi branch was established with a showroom and office outlet. Over the years, the company has established a formidable reputation in air conditioning, refrigeration, ventilation parts and equipment and commands respect from contractors and consultants alike. The company represents some of the most reputed brands from all over the world which are widely used in projects.